This is a Feline News Network Special Report:
Good afternoon felinity assembled, Elvira Mistress of Felinity here.
Yeah, I know...WTM? Where the hell y'all been, girl?
Let's just say the Summer and early Fall, since Daddy Kiril returned from the Cat Writers' Association Conference, have not been the best for him, but we are all hanging in there...
But, this post is not about us....
Today is a special day among humans...
They call it Veterans Day.
As Military.com explains it... "This holiday started as a day to reflect upon the heroism of those who died in our country's service and was originally called Armistice Day. It fell on Nov. 11 because that is the anniversary of the signing of the Armistice that ended World War I. However, in 1954, the holiday was changed to "Veterans Day" in order to account for all veterans in all wars.
We celebrate and honor America's veterans for their patriotism, love of country and willingness to serve and sacrifice for the common good."
There was a 4 year period, early last century when the humans got real mad at each other and took to shooting at each other to sort it all out.
Lots of them died before they settled their squabble.
It was messy to say the least, both the fighting and the peace that came afterward.
There are a zillion tributes this past week and this weekend to the human side of the war...
I want Opinionated Pussycat to be among those who pay tribute to the unsung heroes of the war, and to other wars before and since.
The army of animals... horses, donkeys, and mules, among others who gave their lives to serve their humans needs.
Did you know that 8 million horses, donkeys, and
mules died in various support roles for the humans on
all sides of World War 1?
I found the above beautiful tribute photo on Facebook.
There is one little-known side to The Great War, not to mention other wars through history...the role of cats.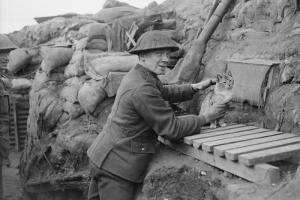 The above "Regimental Cat" in a trench in France in 1918 barely scratches the surface.
While it is common knowledge about the role of dogs in war, not so much is publically known about cats.
I was surprised to learn that in WW1 500,000 cats were dispatched to the trenches and on ships where they killed rats & mice; some were also used as gas detectors.
They were mascots and companions in the trenches, on battleships and at military bases and camps.
Spirit, of Cat Authors website, has 3 posts, with photos of felines in action, and a few more details on their duties (1, 2, 3).
It is a page of links, not just to history, but to resources...a page we encourage everyone to read and explore and share far and wide, not just today, but every day.
From cats and dogs to Marine Mammals, animals have been a part of the military past and present, and cats and dogs also serve as companion animals for military veterans, in various capacities.
We have a growing list of resources that we are always looking to add to and encourage anyone who thinks they have something we might like to add to this collection to please forward that info to us at the e-mail in the sidebar and we promise to look into it and consider it.
11/12/18 - 2am:
Breitbart News has a wonderful tribute that includes discussions of contributions made in WW1 by Carrier Pigeons and a Baboon!
"Researchers have been hard-pressed to find official accounts of the services rendered by animals. Today, they are emerging as unsung heroes of the Great War. France recently decided to recognize their role in war. And in 2004, Britain installed a huge memorial to the vital contributions of animals on the edge of London's Hyde Park."