Oh, Happy Day!!!! 
Catnip for everybody (treats for the under age and niptotallers)!
Hello, felinity assembled, Elvira Mistress of Felinity, here.
On Friday the 13th Daddy Kiril went shopping, thanks to the kindness of family, after some research to find a computer and printer he could look at, in store, and went to a nearby Best Buy where the Geek Squad helped set things up in the computer he chose...then he made our day by bringing it all home.
To say Sneakers the Texian Tuxedo, Friday the Bearded Lady and I were excited would be an understatement....it has been almost a year without a working computer in the home and it hurt.
Daddy got an Inspiron 3668 Desktop and a nice Dell 23 in. monitor and keyboard and mouse. He also got a Brother MFC-J485DW wireless all-in-one printer.
We helped him unpack everything and make sure all was in the boxes that was supposed to be in the boxes. The 2 Tuxedos DID get a little rambunctious, but nothing was damaged in the process...much to the relief of Daddy Kiril, hee, hee!
Daddy set the computer and monitor on the desk, plugged everything in and turned things on to make sure all was operational.
I sent Friday up to double check on the plugs and she came back to report all looked good to go.
Once daddy gets the printer properly connected to our computer via Wi-Fi (it seems another Comcast visit may be needed) then the whole set-up will be fully operational.
A few days later a Comcast tech came by to help daddy set up the internet connection and he and us, as well, soon found ourselves back online from our home base after almost a year of relying on a cell phone and a library computer to do what little blogging we all managed.
A new Windows 10 desktop, a new printer and more....we are all excited and nervous, too, as this is all new to us, coming from years of using a Windows 7 laptop.
There is lots of room for us cats to sit on the desk, at the keyboard and monitor, without knocking things over, though sitting in that spot, while DADDY is at the computer....well, let's just say that while it makes US happy, daddy would not be able to get anything done.
Life is a series of compromises...especially for us felines. Hee, hee!
Daddy still needs to get a new cell phone so he can properly set up the new camera he bought in the fall. He knows what he needs and its cost and is making plans.
He recently got a new bike, with his tax refund, and, as he gets out and explores more of Houston and surrounding cities, he will return to providing photos and stories, for 2 of our ongoing series, of cats on the street, and of animals who have issues related to cats.
We missed blogging on a regular basis, as we had plans for 2017, before the laptop went bad.
It hurt that we could not keep connected with felinity assembled and the wider pet blogging community.
Our traffic, always low, went to dismal, as few seemed to notice we went missing.
We can't thank enough those who kept in touch and who left comments, when we managed to post. It meant so much to us, and to daddy.
He came very close, in December, to not renewing his membership in the Cat Writers' Association, he was so discouraged.
He was embarrassed by his inability to be an active member since he was first sponsored to join.
It hurt. We could tell.
He is extremely proud of the creative efforts of Nikita, and of us girls, as well, since attending Blog Paws in Roanoke, in 2013, but our  (and HIS) not having been able to go to the next level, for a number of reasons, hurt. We didn't feel too good, either, but when life throws you curveballs you just keep doing your best to hit them, come what may, and hope for the best.
Let me end on a couple of positive notes....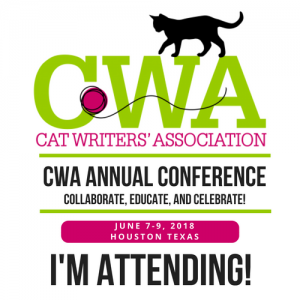 In early June the Cat Fanciers' Association Gulf Shore Regional Cat Show comes to Houston....and the CWA voted to hold its annual conference, here, in conjunction with it, June7-9.
It has been touch and go, as daddy needed to get a vacation week from work and save the money for his ticket, but....I can now announce that Houston's only cat bloggers WILL represent! 
Because the bus is an easy 90 minute trip to and from, and we girls are not used to shacking up with daddy in hotels and doing meet and purrs with what little adoring public knows of us (Nikita was the one who had famous escapades and encounters with fans and even a fellow blog celebs human), none of us will make it to the conference.
Despite Nikita having written something that a writer friend told daddy deserved to be published in book form, self or otherwise, and there being other writings, from stories to poems, by him and us girls, worth a look, daddy did NOT say yes to the conference registration question about meeting editors.
He feels ain't none of us, cat or human, anywhere near ready for that and he just wants to enjoy the conference experience, meet other humans and maybe learn something that will help him and us going forward.
And then there is this....
As regulars know we are known for book and product reviews, from time to time, as publishers and sales reps discover our blog and think what we bring to the table makes it worth their reaching out to us, for what ever reason.
From book reviews, to being a Chewy Influencer for a while, and from a review of Purina Beyond (Behind the scenes with Sneakers), to a series on Ideal Balance for which daddy was paid by Hill's Nutrition, after we attended Blog Paws, we have proudly displayed our writing skills.
Well, in  the past few days a rep from KitNipBox has reached out to daddy and, after spending some time exploring their site and thinking about it, we just may say yes to a free box to review. We just need daddy to ask a few questions, for us, before we decide.