Happy Tortie Tuesday, felinity assembled, Elvira Mistress of Felinity here with an important rescue story that has absolutely nothing to do with Torties, but DOES have something of interest for cats to recommend it, hee, hee!
This is about family and family can come in different species as everyone in the pet blogging community well knows.
Daddy Kiril's family on his maternal side, going back decades to at least the 1930's, have shown a love of cats and dogs and this is the story of one member of the younger generation now carrying on the tradition in new ways, just as her Uncle did when he took up blogging in 2002.
Daddy's sisters are Dog lovers and the young daughter of one sister let her love of animals and Dogs guide her into a career in Veterinary Medicine.
Michelle and her husband-to-be already had a Dog, our 4 1/2 yr. old, Boxer/Pit Bull, friend Daisy, but, soon after leaving SoCal for a new life in Idaho and getting a new job as a Veterinary Technician (The National Association of Veterinary Technicians in America (NAVTA) was formed in 1981 and is a great place to learn about the profession) Michelle had her heart touched by the tragic circumstances of a 17 week old female Pitt Bull/Boxer/St. Bernard Mix (something about Red Nose/Blue Nose was also mentioned  -- PittBull.org has a wonderful article that puts this question in its proper perspective.) that was brought to the hospital (a friend of ours and Daddy Kiril thinks she can see a bit of Bernese Mountain Dog!).

I'll let Daisy explain it....
"Well, Elvira, it's been an interesting last few days around my home...Mommy brought home the newest addition to our family.
I was surprised and wary, yet curious.
She had a sweet 17-week old puppy named Sammy signed over to her March 3rd, just before she was going to be put down due to financial hardship. Sammy had an accident and fell from the top of a playground slide. Not only did she need to be spayed but she needed her hip to be fixed too!
Her Humans really did love her but couldn't afford the surgery and it killed them knowing Sammy was in a lot of pain. Mommy was just so thankful that they allowed her to take ownership of her so that she could give her a second chance.
Mommy told me that from the moment she saw Sammy she fell in love with her!! It was like meeting ME as a pup all over again, she said.
That made me feel better and assuaged my initial bout of jealousy.
  Mommy knows she can't save every animal that she encounters in her work, but this one really touched her.
Sammy had to undergo a Femoral Head Ostectomy (FHO) aka a "Girdlestone Operation"  on her left hip and a Spay all together along with her first set of vaccinations.
That's a lot for one so young to go through at once.
This is a surgery suitable for felines, too, so the info page is well worth a read for you and your Human as a start for learning about treating this type of injury.
She soon was brought home and I have begun to get used to her and like what I see so far, though still from a bit of a distance.
So far Sammy is such a great pup. She goes to the bathroom outside and she seems to want to sleep through the night which is awesome!
This will make my job as her mentor so much easier from the get go!
But, wow, she sure is a big girl for her age and if Mommy is right about her genes she may eventually be bigger than me!
 Sammy is recovering well but she has about 6 weeks of recovery to go and will have to undergo physical therapy."
  Which brings me to the reason for this post...
Elvira, here, again...
Sometimes the Human heart is bigger than the Human wallet and this is one such case as Sammy's new family only settled into their new home and jobs in January and February.
The medical bill for the surgeries and meds runs to almost $800.
Michelle set up a Go Fund Me Campaign on Sunday and I told Daisy I would do what I could to share the story of Sammy and see what happens...no guarantees.
One thing Daddy Kiril, the original Opinionated Pussycat, Mr. Nikita, and we girls have learned over the years is that the Pet Blogging Community is a caring one and I am reaching out to it on behalf of someone in need.
Anything will help; from helping to spread the word on blogs and across social media (see the share buttons below) to the smallest of donations.
I have 3 links to share:
Michelle's Instagram -- It has a number of photos and brief videos of Sammy, as well as of Daisy.
Alpine Animal Hospital has a great website!
****UPDATE - 3/9/17****
A new life deserves a new, pretty, name!
Sammy's Human decided she lookS and behaves like a Josie, so Josie it is!
I let Daisy know that if Josie ever needed a backup band I knew 3 pussycats who are ready and willing, hee, hee! :-D
Elvira Mistress of Felinity
****END UPDATE****
****UPDATE - 3/13/17****
Thank you to M. K. Clinton, of Barking From the Bayou, for leaving the 4800th comment on this blog since it began New Year's Day 2010!

****END UPDATE****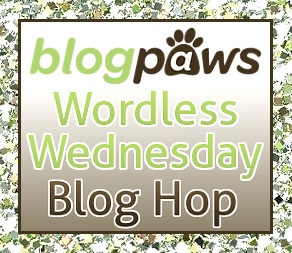 Save
Save
Save
Save
Save
Save
Save
Save
Save
Save
Save
Save
Save
Save
Save
Save
Save
Save
Save
Save
Save
Save
Save