OK, this is interesting. ;-D
Daddy awoke me this morning with the news that I've apparently got a fan among a group of Humans who play the game of Billiards, or Pool, as some call it. ;-D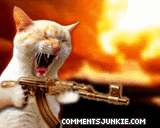 How did THAT happen? Until this morning I'd never even heard of the game!
So I went to see what the fuss was about, prepared to hire a bodyguard to protect my Vivacious self from harm. ;-D
AzBilliards is an Online Community Forum that is apparently sponsored by a Dog who plays the game, according to a link at the top of the page.
There is one particular thread called "Welcome back Hipster", in a non-pool related section.
How welcoming back a Hippie led to a discussion about yours truly, The Most Delightful Pussy in the World, made for interesting reading. ;-D
After several pages of posts celebrating the Hipsters return, defending, or bashing some guy named Larry, and debating whether some CNN International Anchor, named Rosemary Church, mentioned Godzilla in a report on the Japan Earthquake...
Someone woke up, yesterday morning, with a question on their mind...
On Page 3 of the thread:
CheffJeff begins a post, at 709am, with this question:
"Does anyone but me see the proggressive slide toward pussiedom?"
Something about Pool Rules, and how things went to hell in a handbasket when women started playing, I think. ;-D
He wonders if there are any real men left in America.
I guess he's never met my Daddy Kiril! He used wear a t-shirt, years ago, that read "Real Men Admit They Love Pussy!" that had a Cat on it. ;-D
2 1/2 hours later, at 947am, someone named Slide Rule agreed with this, and then dragged ME into the discussion!
"Amen to that!

By the way pussiedom is spelled pussydom. An area of special study and knowledge.

Elvira"
This was getting interesting! ;-D
ChefJeff called into question the spelling ability of Slide Rule, that afternoon, at 1239pm:
"Maybe it is spelled pussidom. That looks best."
Should I be deeply affended that he discusses the "Looks" of a word, but doesn't discuss MY looks?;-D
Someone appears to have dug up a dictionary because, at 1244pm, someone named j2pac tosses in their 2 cents:
"Pussie, Pussi, Poosie, or Pussy.......How do you spell relief? Good thing Mrs. j2 is visiting her aunt. If she were here right now, she might suffer an attack from the killer banana....Or was that tomato?"
I took one look at the Killer Banana, posted at 1254pm, and all I'll say is...Let me at him! I'll Nom his, um, well, I'll Nom it, & that will put an end to that! ;-D
At 316pm Slide Rule returns, and comes to my defense!
"Sorry Jeff. You have at least 5 more years of study ahead of you.
And for homework visit Elvira."
I think I like this Ruler person! ;-D
Since the post by Nikita, that was linked to, is an old one, this person must not be a Cat Blogger, but found the post via a Google Search. ;-D
As for Homework related to the word Pussy, its proper spelling, and usage...the best teacher, on this blog, is my mentor Nikita.
As regular readers know he's the Great Defenderr of the Honor, and Dignity, of that ancient word:
The lessons begin here:
May I Have a Word?: To a Cat there is no finer word, in any language, than this one... 
After that things quieted down for the rest of the evening, and overnight, and I await further developements, this morning. ;-D
You can see Page 3, where I got dragged in, here, and read the other pages, as well, if you choose. ;-D
Oh, and to all you Pool Sharks coming over for a look see...
I hope you like what you see, and read, and...Come back, and see me sometime. ;-D